HOMETOWN SHOW – NOV 18
Happy as clams to be back at the Capital this Friday, November 18th (facebook event: https://www.facebook.com/events/1198120113593568/)! The Capital gave us a chance way back in like 2010 (when they really shouldn't have cuz we sucked), and we've been playing there ever since.
When we play our hometown, we always make a concerted effort to book other bands that are doing interesting and good things; we've really outdone ourselves this time. Make sure to come early and check them out, or you'll forever regret it.
((((here's a thing that makes my heart sing: all these bands have women in them, and they shredddddddd))))
<<< TAMPA >>> is a 4-piece from Moncton. We used to play with their former band, Danger Cat, back in the day. That project faded away, but the boys in DC recently emerged with a new incredibly tasty pop/rock band, Tampa, made even better by the fact that Chatrine Noel (of Les Hay Babies fame) plays bass for them. It doesn't seem like they have any recordings out yet, cuz they're brand-spanking new, but you can check out their former project, Danger Cat, here:
https://danger-cat.bandcamp.com/
and if you like that, imagine that thing but more upbeat and danceable (with just the best guitar riffs).
<<< Nightbummerz >>> (Halifax, NS) threw us for a loop at Shifty Bits Circus: Inf4rno (2015), which was possibly their first show???? And they've only been getting cooler since. Our longtime pals Al Pal and Cam Evans are joined by newtime pal Grace Stratton to make a spooky post-punkish new wavy band that is veryyyyyyyyy good. They're on first, so if you're always like "there's not enough loud music in Fred, wah!" then get out early to see them and make your heart happy. Check 'em out here:
https://nightbummerz.bandcamp.com/
And!
Motherhood will have BRAND NEW SHIRTS for sale. We haven't had shirts since 2011, so it's very exciting.
See you Fri!
xo luv u
P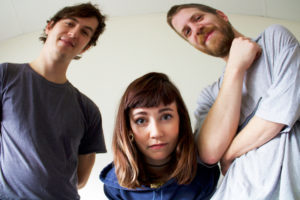 and here's a sneak peek of some photos Cam Crain took of us last week, in case you forget what we look like.